About the College

The institution was established in the year 1997 affiliated to Jawaharlal Nehru Technological University, Hyderabad.

The College has successfully completed 5 years of existence with excellent results year after year. The faculty and non-teaching associates have demonstrated teamwork in carrying innovation to upgrade the standard of quality improvement in the areas of Pharmacy education.

The objective of the College is to ensure the highest standards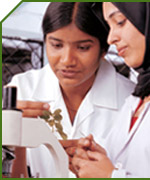 of quality education.The College has plans for postgraduate education in the near future.

Curriculum

The different disciplines in which the students acquire theoretical and practical professional knowledge in the respective laboratories

• Pharmaceutical Technology
• Pharmaceutical Chemistry
• Pharmacology, including Anatomy, Physiology & Health Education
• Biotechnology
• Pharmacognosy
• Pharmaceutical Analysis

The course also offers the basic required skills of Computer Science imparting both theory and practical knowledge of working on computers and its relevant application in
different disciplines of Pharmaceutical Sciences.

Recognition & Approval

The College has been approved by

• Pharmacy Council of India, NewDelhi.
• All India Council of Technical Education, (AICTE), NewDelhi.
• Jawaharlal Nehru Technological University (JNTU), Hyderabad.

Results/Performance

The results have been excellent with more distinction holders than first classes every year, in each class.

The College had a rare distinction of our students being the toppers and declared as the best outgoing students amongst all affiliated colleges of JNTU for the last two academic years.